4-day, 3-night plan
Okinawa Educational Travel
Recommended Courses
Study, Feel, and Experience the Natural Environment and Culture of Okinawa
Whether your interest is in history, culture, nature, peace studies, or industry, Okinawa offers a variety of potential subjects optimal for educational travel. Here, you can put together travel plans that incorporate experiences impossible to have anywhere else around Japan.
Tips for Planning
Okinawa has an abundance of attractions, allowing for a variety of plans. Pick your destinations based on how long your trip will be.
4-day, 3-night plan (Main Island)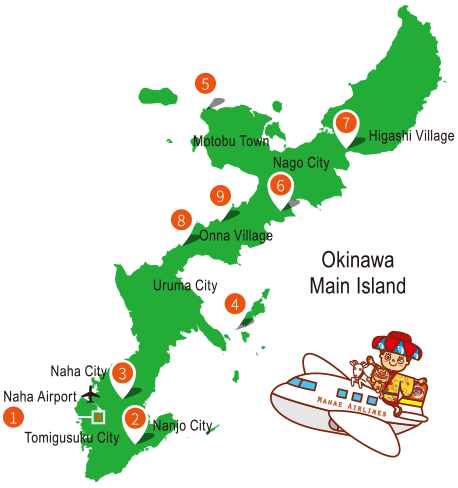 This plan allows you to visit not only the sites and facilities where you can come into contact with Okinawa's history, culture, and natural environment, but also venues associated with cutting edge science and technology institutions as GODAC, OIST, and JAXA. The offerings focus on allowing students to enjoy themselves on their own through firsthand study and other experiences including homestays and school exchange programs, creating memories they will never forget.
Day 1
Experience History and Culture in the Southern Area of the Main Island
Naha Airport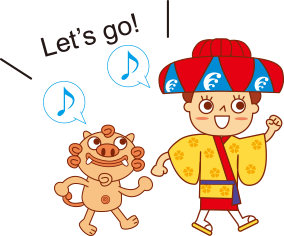 A set of caverns in which the Former Japanese Navy 5 6 7 Underground Headquarters was located during the Battle of Okinawa. The site also features a museum and resource center.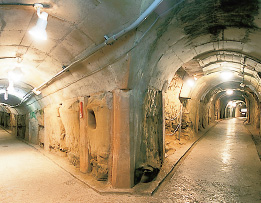 2

Okinawa World, Culture Kingdom and Gyokusendo

(Nanjo City)

The immense power of the Eisa dance makes it a must-see. Also take in a habu (Ryukyu pit viper) show and explore underground caverns.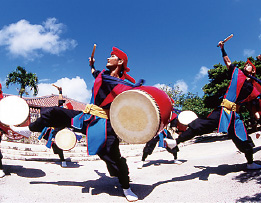 Shurijo Castle was the palace for the king of the Ryukyu Kingdom. Numerous ruins of historic sites also remain in the vicinity.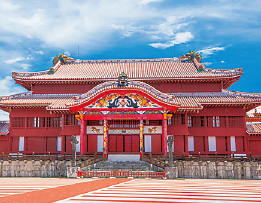 Stay in the main island's southern region
Day 2
Exciting Okinawa-style Bullfights and Interschool Exchanges
An example of traditional culture with roots in farmers' entertainments. Split up into teams and cheer your bull on!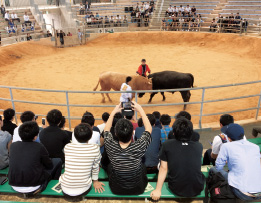 School exchange program on Okinawa Main Island
A chance to deepen mutual understanding through presentations and classes.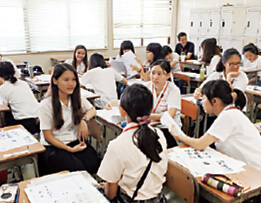 Stay in the main island's northern region
Day 3
Study and Experience Firsthand the Ecology of the Seas
The enormous tanks where visitors can take in a panoramic view of fish from the Kuroshio Sea and coral being raised on a tremendous scale are spectacular.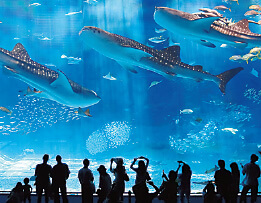 Facility allowing free field trips where visitors can get a better understanding of ocean chemistry technologies.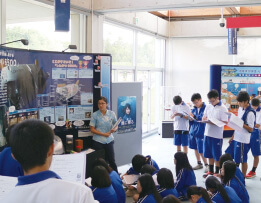 7

Homestay

(Higashi Villge) Higashi Village Tourism Promotion Association

Get a taste of private life in Okinawa through cultural experiences at fisheries and in the home.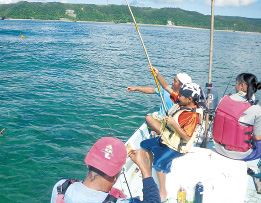 Homestay in Higashi Village
Day 4
Visit a Graduate University that Performs the World's Most Cutting Edge Research
Village farewell ceremony
This research facility with its views of the East China Sea has a cafe open to the public.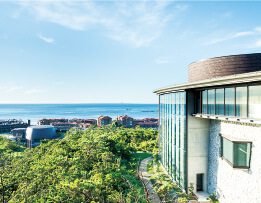 Students can learn here about the roles of manmade artificial and parabolic antennae, as well as space development.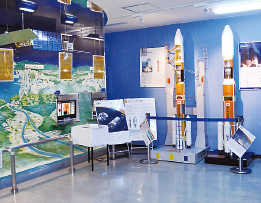 Naha Airport